Hightlight
Air conditioner

beach

Child-friendly

Credit cards
Turkey is one of the most ideal places for vacations due to its climate and geographical location. Turkey is a peninsula surrounded by the sea and there are many amazing places for vacations. On this website you can find information about the best holiday destinations in Turkey on the Aegean and Mediterranean coasts. We will introduce the most beautiful summer vacation destinations on the Aegean and Mediterranean coasts. The vacation destinations on the list offer good options for couples and families and women traveling alone.
Holiday destinations in Turkey are impossible to count as it is a country that fixes that it is a piece of heaven with its natural beauties.
The Most Famous Summer Holiday Destinations In Turkey :
::: ISTANBUL :::ANTALYA :::IZMIR :::FETHIYE      ::: BODRUM   
:::Mugla  :::Alanya  :::Alacati  :::Marmaris :::Side
:::KEMER  Fethiye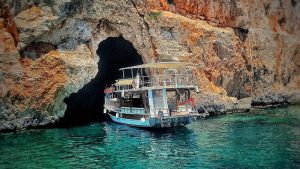 Kemer is on the southern coast of Turkey, almost 43 kilometers from Antalya, located in the west of the country. It is one of the most popular holiday destinations in Turkey and the world. There are unlimited places to visit and see in Kemer. Phaselis and Olympos are two significant ancient cities that should be visited in Kemer. Yanartas, which is located on the hills of Cirali and Olympos, is famous as the eternal fire and has a natural fire source, is also must be seen. Adrasan, which has an awesome natural beauty and beach, is also among the best places that worth seeing.
2-Bodrum the Best Holiday Destination
Bodrum is at the top of holiday destinations in Turkey. Perhaps the most well-known and the most talked about holiday destination is Bodrum. If you want to spend a magnificent holiday with the sea, sand and sun in Turkey, the first place you should go is Bodrum.
It is feasible to find various accommodation opportunities in the town, which is flowed by local and foreign tourists every summer. High-star facilities of international hotel brands serving around the world, holiday resorts, boutique hotels, family-run smaller hotels, hotels, or hostels make a Bodrum holiday possible for you that appeals to all tastes and budgets.
Yalikavak, Turgutreis, Torba, Gumusluk, Bitez, Akyarlar, Gumbet, Gundogan are some of the best-known holiday destination in Turkey, Bodrum to spend your summer vacation.
If you are planning a quiet holiday, you can review our accommodation suggestions for family hotels, child-friendly hotels, conservative hotels among Bitez, Gumusluk and Akyarlar hotels.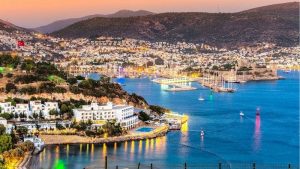 3-Fethiye holiday destination in Türkiye
With its magnificent natural beauty, historical context, delicious restaurants, sparkling bays and nightlife, Fethiye is one of the most popular holiday destinations in Turkey, hosting thousands of domestic and foreign tourists. With accommodations to suit every budget, it meets all visitor expectations.
Kusadasi Holiday Destination in Turkey
Kusadasi is a region of Aydin city in Turkey. The Izmir province is in the north of the district, Soke district is in the east and south, and the Aegean Sea to the west of Kusadasi. Tourism has a rapid growth in the district and becomes one of the most preferred holiday destinations in Turkey.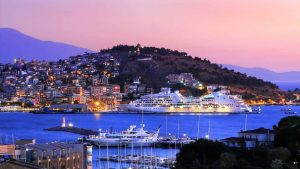 Datca Peninsula, a Holiday Destination in Mugla Turkey
The Datca Peninsula draws the attention of both local and foreign visitors with its beautiful bays where blue and green meet. Blue flag beaches and lush pine forests attract everyone at first glance. It is one of the favorite holiday destinations in Turkey with its natural and fresh atmosphere.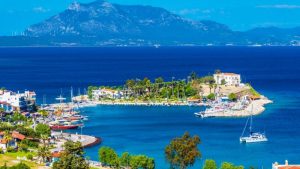 Alanya, a Holiday Destination in Antalya Turkey
Alanya is one of the holiday destinations of Antalya, Turkey in the Mediterranean Region, located to the east of the city center, which has come to the fore as the tourism region.
Alacati, a Holiday Destination in Izmir Turkey
Alacati is a magnificent region in the Cesme district of İzmir province. It is the most popular holiday destination and tourism center in Turkey that has a coast on the Aegean Sea.
Alacati is an interesting and beautiful place with its narrow streets that live in all seasons, oriel stone houses, authentic places and designer shops.
In summer, the streets decorated with bougainvillea plants take on a perfect beauty. Surf, wind, stone houses, mills, narrow streets and mastic ice cream are among the first things that come to mind when talking about Alacati. Turkey's only gum tree garden is located in Alacati.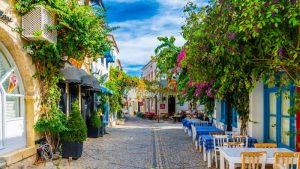 Marmaris, a Port City in Mugla
Marmaris is a port city in the Mugla province at the intersection of the Aegean and the Mediterranean Sea on the southwest coast of Turkey. Marmaris, one of the most major tourism centers in terms of tourism, is the biggest holiday destination in Turkey on the Aegean coast. It is the meeting point of the Aegean and the Mediterranean Sea.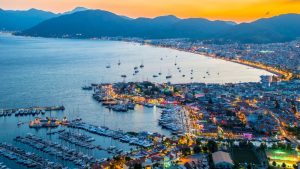 Side Ancient City – Antalya Holiday Destination in Turkey
Side, built on a peninsula has a majestic gate surrounded by walls, its magnificent gate, ancient port, temples of Apollo, Athena, Dionysus, baths, columned streets, theatre, agora, triumphal arch, basilica, baths. Thanks to the old houses, monuments, fountains and of course, the ruins exhibited in the city museum, it is a magnificent place where you can experience history in each detail.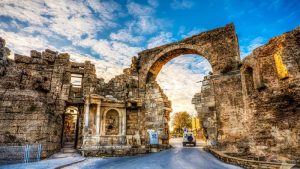 Cultural Tours
Business Tours
Health Tours
Religious Tours
Recreational Tours
Private Tours
Tour with Tour guide and Translator (private and public)
City tour with guides (private and public)