Hightlight
Air conditioner

Breakfast

Car parking

Covid-19 safety
Şiş Köfte
One of the most important tastes of Belek cuisine is shish meatballs. Shish meatballs, which is a legendary flavor with its smell and taste, has become an Antalya classic by being identified with piyaz over time. This soft flavor, which is cooked on coal fire by passing a bottle, is one of the local delicacies that you should definitely taste during your Belek holiday.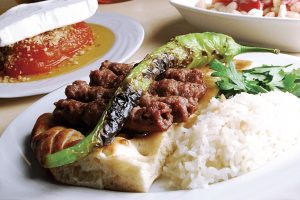 Experiencing Turkish Coffee
Regardless of your stance on coffee, you shouldn't leave Turkey without at least trying an ornate little cup of traditional Türk Kahvesi (Turkish coffee). This unique experience can be a bit intimidating to undertake but is easily enhanced with a little bit of background information. Turkish coffee is not so much a type of coffee as it is a way of preparation. Often the beans are sourced from Brazil and lightly roasted, but recently, more creative experimentation is occurring and creating a variety. You could define something as Turkish coffee if the beans have been ground into a very fine powder and then brewed in what is called a cezve over a small flame. The beauty of the tradition of Turkish coffee means you can find a good cup almost anywhere – at cafes, specialty coffee shops or restaurants.