Hightlight
Air conditioner

Reservations

Wifi
CATALOGUE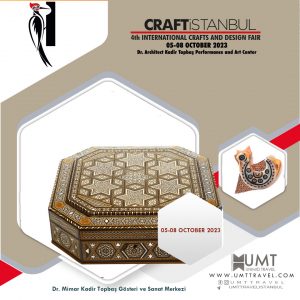 CRAFTISTANBUL ON 05-08 OCTOBER 2023
Valuable producers, masters, craftsmen, designers, educators and traders of handicrafts, one of the basic elements of social culture, are, in short, the stakeholders of the sector!
Raising social awareness about Traditional and Contemporary handicrafts; promoting national and international handicrafts; providing new market channels to producers; Our fair, which we organize in line with offering correct and quality products to consumers, has been granted international fair status by TOBB as of this year.
CRAFTİSTANBUL Handicrafts and Design Fair, which was held for the third time last year, will be held on 05-09 October 2022.
Many participants from Turkey and different countries of the world participated with handicraft design products in different categories. More than 400 handicraft artists, 77 of whom were from abroad, 16 universities, 11 municipalities, women's cooperatives, handicrafts and design associations and foundations, and companies producing artistic materials and machinery and equipment participated. In addition to product shows and dozens of workshops, more than 20 panels and interviews were held. "Handicraft Honor Award" was given to Istanbul Printer Tahsin İstengel, "Handicraft Institution Honor Award" was given to Fatih Municipality for Karınca Women's Manual Labor Courses, and "Sister Country Honor Award" was given to Bangladesh.
More than 13,000 visitors attended the fair, which attracted a lot of attention, especially from the officials of boutique stores selling New Year's souvenirs and tourism season items.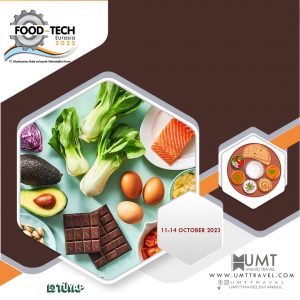 Food-Tech Eurasia unites forces once again with Eurasia Packaging Istanbul, the most preferred packaging industry fair in its region. In a wide range from chocolate, confectionery, and pastry equipment to meat and dairy product technologies, cold chain equipment to food safety, processing, and filling technologies to packaging production; F&B manufacturers can find reliable, cost-effective, and high-quality solutions for their products at Food-Tech Eurasia Fair.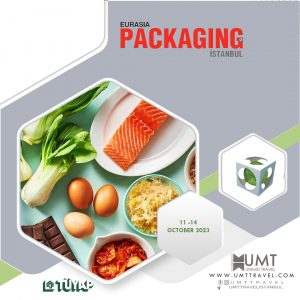 Packaging industry is set to gather for new business connections in Istanbul
between October 11-14, 2023
The Eurasia Packaging Istanbul Fair -the largest annual fair and business
platform of the packaging industry in the Eurasia region- will be held for the
28th time at Tüyap Fair and Congress Center located in Büyükçekmece,
Istanbul between October 11-14, 2023.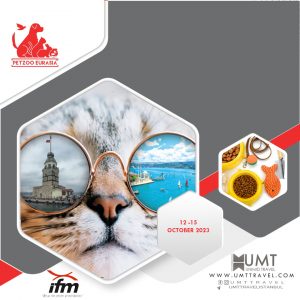 ABOUT PETZOO EURASIA
PETZOO Eurasia is the only international and most comprehensive and
specialised exhibition in the pet industry of Turkey. The upcoming 9th
edition which will be in 2023, aims to dominate Eurasian region with
international cooperations, foreign exhibitors and visitors by reaching
significant number of countries . The exhibition is organized in Istanbul
where is an important destination possessing direct flights and joining
continents.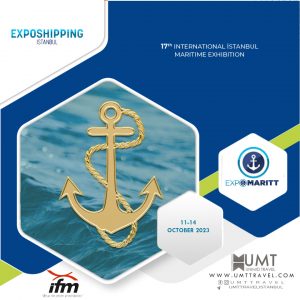 Türkiye's only shipbuilding and sub-industry meeting point; The 17th International Maritime Exhibition – Expomaritt Exposhipping İstanbul will be organized on 11-14 October 2023 in İstanbul with its new motto; "The Global Maritime Industry is Heading to İstanbul!".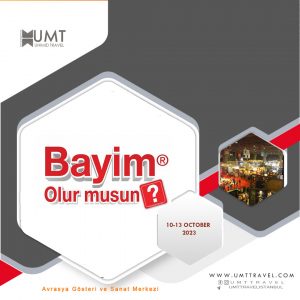 Turkey is the primary choice of international brands that want to give dealership and franchise, in terms of its geographical location and its role as a bridge between continents. Brands that want to grow through franchising and dealership and are looking for new business partners come together with entrepreneurs at the Will You Be My Dealer Franchising Fair, our country's first and only fair in the field of franchising.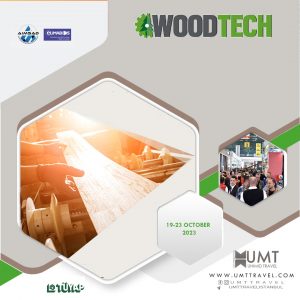 36th Wood Processing Machines, Cutting Tools, Hand Tools Fair
Being one of the most important trade fairs of the wood industry in Turkey, Wood Processing Machinery offers an extensive range of products such as machinery and technical equipment for processing forestry products, semi-finished products, surface finishing, assembly and packaging and brings together local and international companies that operate in different branches of the industry. Wood Processing Machinery; Wood Processing Machines, Cutting Tools and Hand Tools Fair will be held on October 19 – 23, 2023 at Tuyap Fair Convention and Congress Center/Istanbul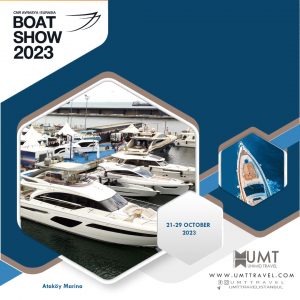 All Aboard at CNR Eurasia Boat Show On The Sea
The foremost trade platform of the sailing industry, CNR Eurasia Boat Show, has been taking place non-stop for 16 years and keeps becoming the greatest supporter of the industry and is organized with the cooperation of CNR Holding subsidiary, Pozitif Trade Fairs
The first edition of the year was held on between June 01-07, 2021 and presented hundreds of domestic and international sea vehicles. The most reputable domestic and international brands made their Turkey debuts at CNR Eurasia Boat Show On The Sea, enriched with numerous sea shows.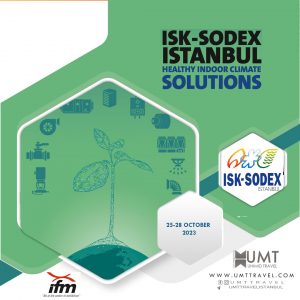 International Exhibition for HVAC, Refrigeration, Pumps, Valves, Fittings, Water Treatment and Insulation
ISK-SODEX Istanbul is one of the leading and biggest exhibition in Eurasia for HVAC-R industry, has been showing the way for the development of the industry and highlighting the industrial innovations since 1997.
ISK-SODEK is a biannual event organized by Hannover Messe Sodeks Fuarcılık in association with ISKAV, DOSIDER, İSKİD, İZODER, TTMD, POMSAD, SOSİAD, ESSİAD, MTMD and KBSB.
40th International Istanbul Book Fair
TÜYAP All Fairs Production Inc. Istanbul Book Fair, which has been organized for 40 years, is the most rooted and unrivaled fair in its field, with nearly half a million visitors it has hosted, and it is also the largest fair in Europe that reaches readers.
Exhibiting products and services:
Books, periodicals, newspaper and magazine publishing
digital publishing
media companies
non-governmental organizations involved in publishing