Hightlight
Air conditioner

Child-friendly

Credit cards

Reservations
Manavgat Waterfalls
The Manavgat Waterfalls, flowing through a variety of trees in amid lush nature, offers a unique sight worth seeing. One of Turkey's best-known and most beautiful waterfalls, Manavgat Waterfalls welcomes countless tourists every year to its spectacular view and a cascade of water flowing from four-metre-high cliffs.
While you are enjoying a holiday in the world of privileges of Arum Barut Collection, you can visit Manavgat Waterfalls, one of Antalya's most fascinating beauties, and add an entirely new experience to your holiday.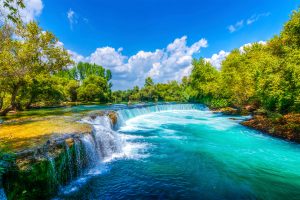 AQUAJOY SU PARKI
In addition to fun and modern slides, this well-equipped water park has also planned crazy activities for visitors. Don't miss the menu of delicious food and entertainment enriched with animations in the largest and most modern Aquajoy water park in Antalya Manavgat.
Köprülü Canyon
Köprülü Canyon (Turkish: Köprülü Kanyon) is a canyon and a National Park in the Province of Antalya, Turkey. Covering an area of ​​366 km2 (141 sq mi), it was established as a national park by the Ministry of Forest on December 12, 1973.
The canyon is 400 m (1,300 ft) deep in some places and stretches for 14 km (8.7 mi) along the Köprü River. There are fish restaurants at the rest area; fresh trout is a specialty.
The Roman Oluklu Bridge (Olukluköprü) over a tributary gorge and the Bugrum Bridge over the Kocadere stream were engineering feats of their time.